If you're looking for decorative gable vent ideas, you've come to the right place. Gable vents are a functional piece of the home exterior that can also serve as a beautiful design element.
Let's look at gable vents and discuss some ideas that you can use for inspiration.
What is a Gable Vent?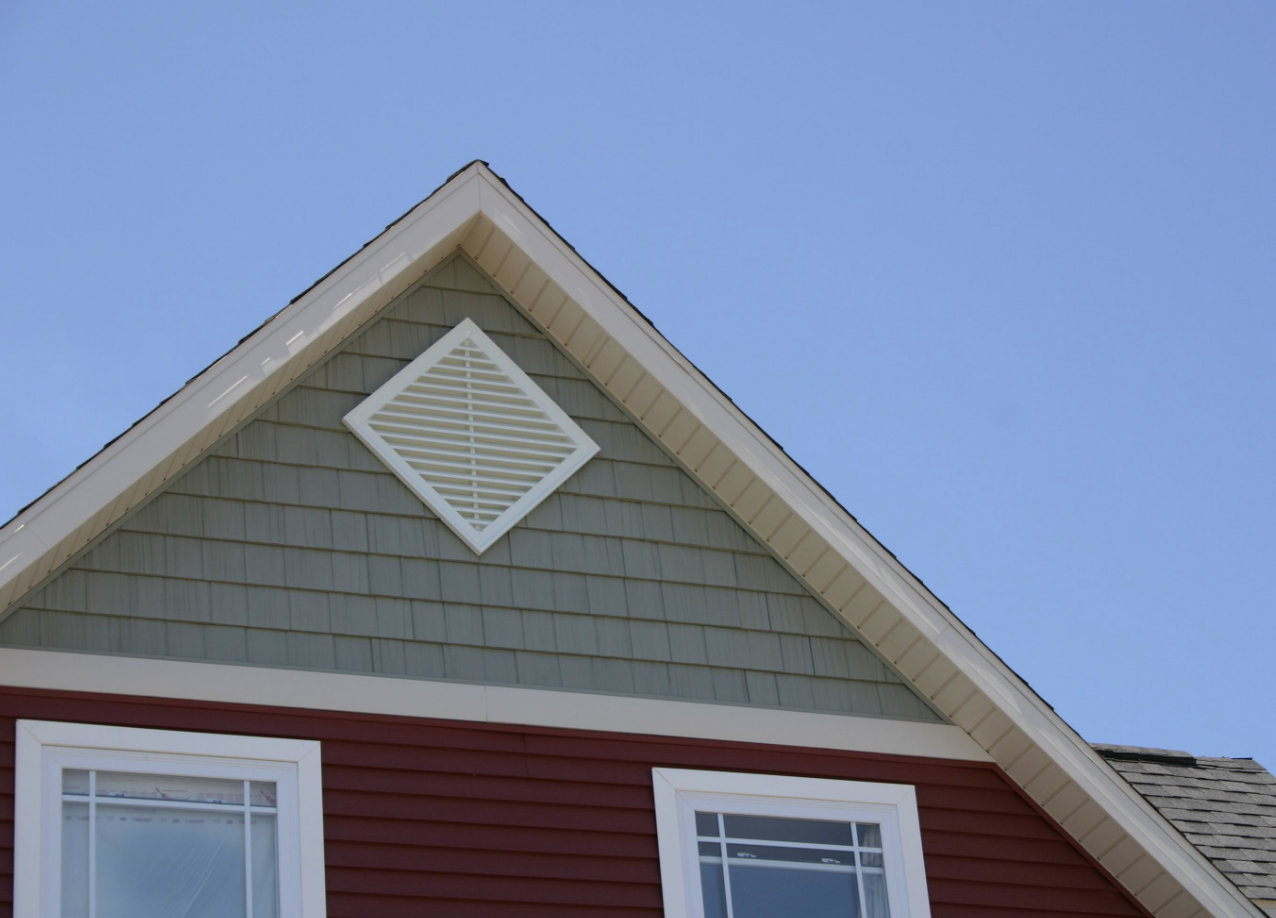 Alt Text: A white, diamond-shaped gable vent under the roof of a home with red and gray siding and white trim.
Almost all homeowners are looking for ways to cut back their electricity bills. As a result, the conversations surrounding roof and attic ventilation are frequent. Proper roof and attic ventilation aids in temperature regulation, which can contribute to lower electricity bills. This is where gable vents come in.
Gable vents help establish and maintain proper attic and roof ventilation. You can find gable vents installed on the exterior of homes with gable roofs. Generally, they're placed on both sides of the roof — on the attic walls or along the side walls beneath the roof's eaves.
Gable vents work by offering passive ventilation. When the airflow is perpendicular, gable vents allow cool air to flow in one vent and hot air to be pushed out the other. If the airflow is parallel, each vent works as an intake and exhaust vent, drawing heated air out as it rises. As the warm air leaves the attic, slight negative pressure is created, to draw more cold air into the attic.
Proper attic ventilation isn't just about lowering energy bills, either. It's also about controlling humidity levels, protecting your possessions and reducing fire risk. So it's easy to see why gable vents are such an asset to a home.
However, gable vents aren't just a ventilation tool. They're also created to serve in a design capacity as well. Unlike other passive venting systems, gable vents are supposed to be seen. They add an architectural design element to the home's exterior to create visual appeal.
4 Decorative Gable Vent Ideas to Inspire Your Home Design
Gable vents can be traditional or modern and come in various colors, shapes and materials to match your home's style. Here are four different decorative gable vent ideas to use as inspiration:
1. A Contrasting Circle Gable Vent To Tie A Bold Look Together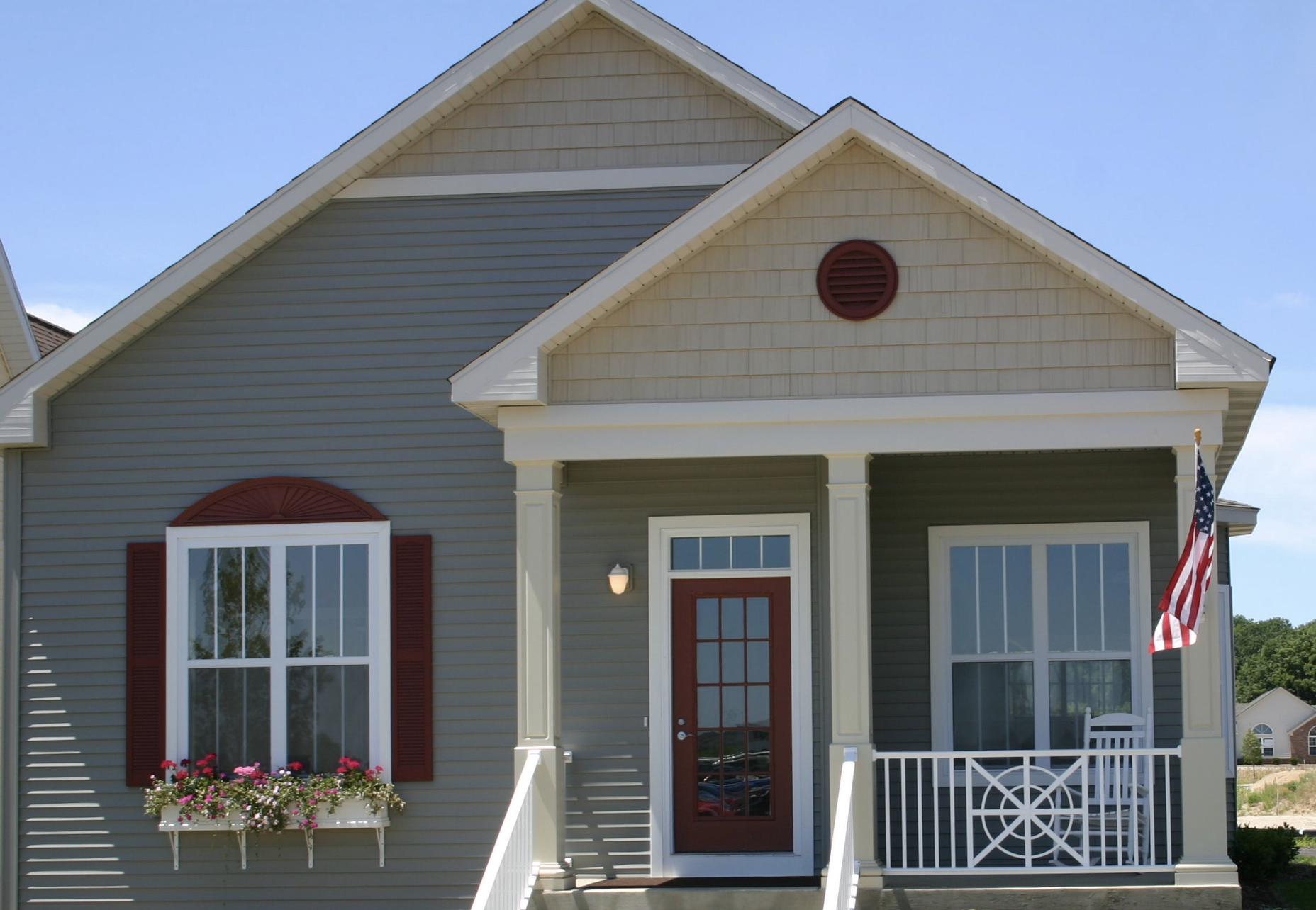 Alt Text: A one-story home with gray siding, red shutters, and off-white trim. A round, red gable vent matching the shutters and door is visible above the front porch.
This home sparkles with its interesting color combination. It effortlessly pairs shades of blue, maroon, white and tan together to create a contrasting yet complementary final look. To make these colors work together, the homeowner had to find ways to tie in colors tastefully, and one way they did that was with the gable vent. The small circle gable vent matches the door, shades and window pediment to make the maroon really pop.
2. A Diamond-Shaped Gable Vent to Add Symmetry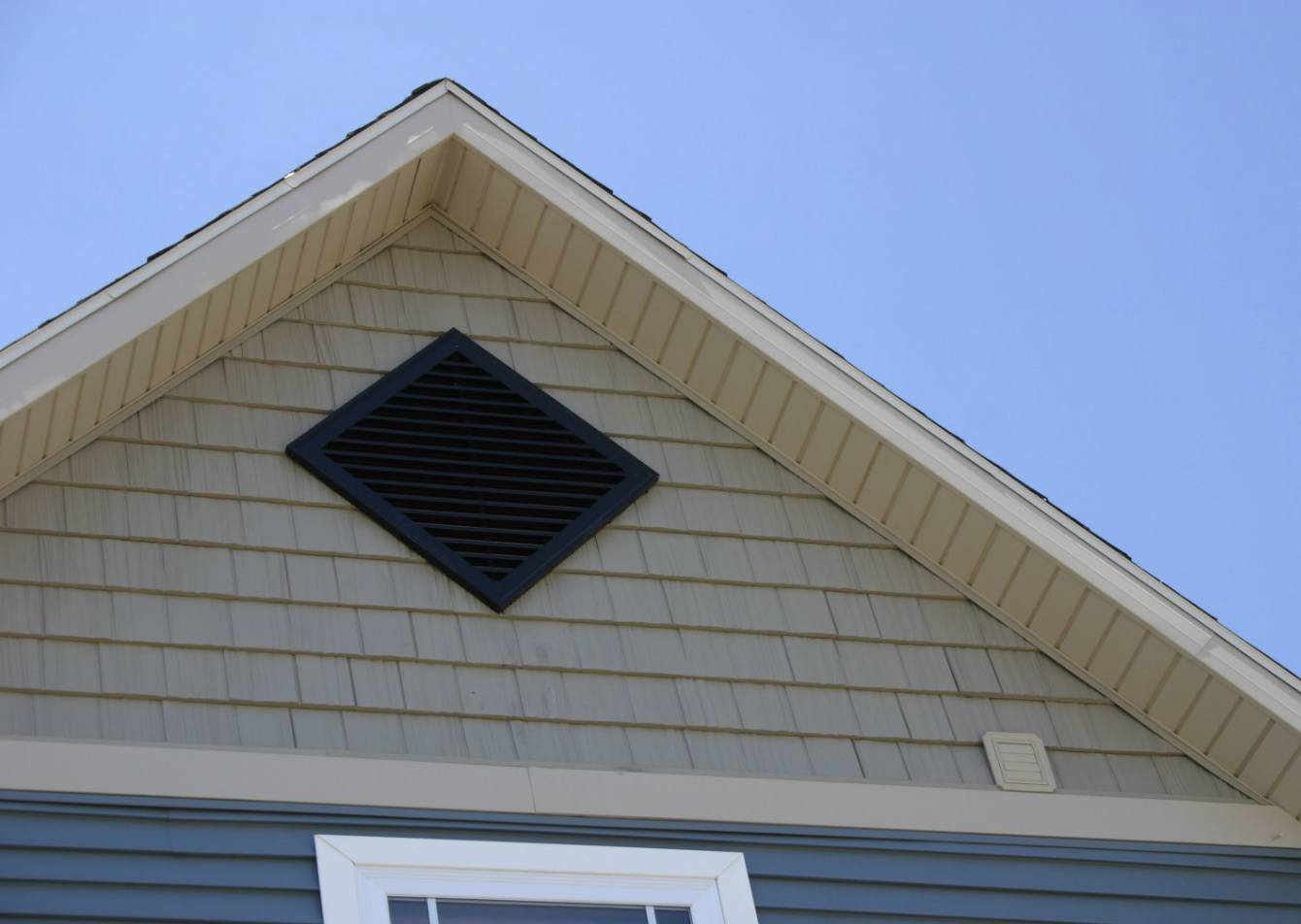 Alt Text: A diamond-shaped black gable vent on light gray shake siding.
Circles, triangles and octagons are popular gable vent shape choices. However, this homeowner decided to do something a little different with a diamond-shaped gable vent. The diamond shape in the contrasting color adds symmetry and intrigue to the triangular-shaped gable. It just goes to show that you can do a gable vent in several shapes and styles and still have striking results.
3. A Small Circle Peeking From Behind a Custom Gable Pediment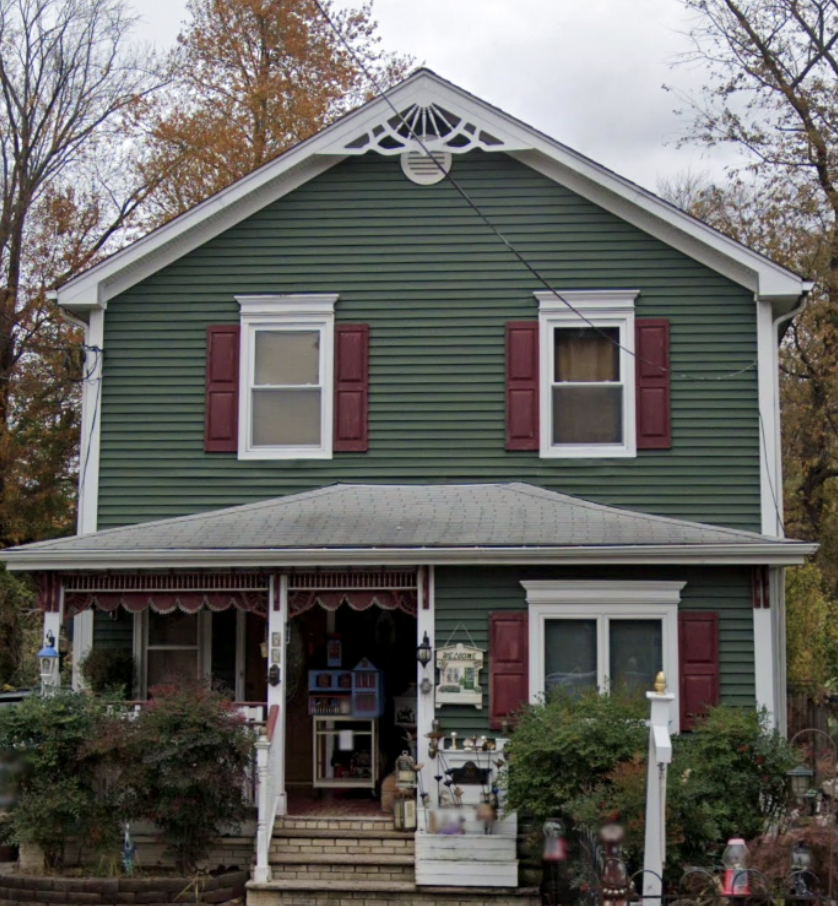 Alt Text: A two-story home with forest green siding, dark red shutters, white trim and a round, white gable vent at the top. The front yard is landscaped with bushes and garden decor.
You might miss the gable vent in this example if you look too quickly. This home has a lot of exciting design elements, including a custom-fabricated gable pediment. However, hidden behind the pediment is a perfectly complementary cream-colored gable vent. It was an ideal choice for this two-story home. Sometimes, letting the gable vent blend in a bit is the best route for the home's overall look.
4. A Large Oval-Shaped Gable Vent to Add Visual Intrigue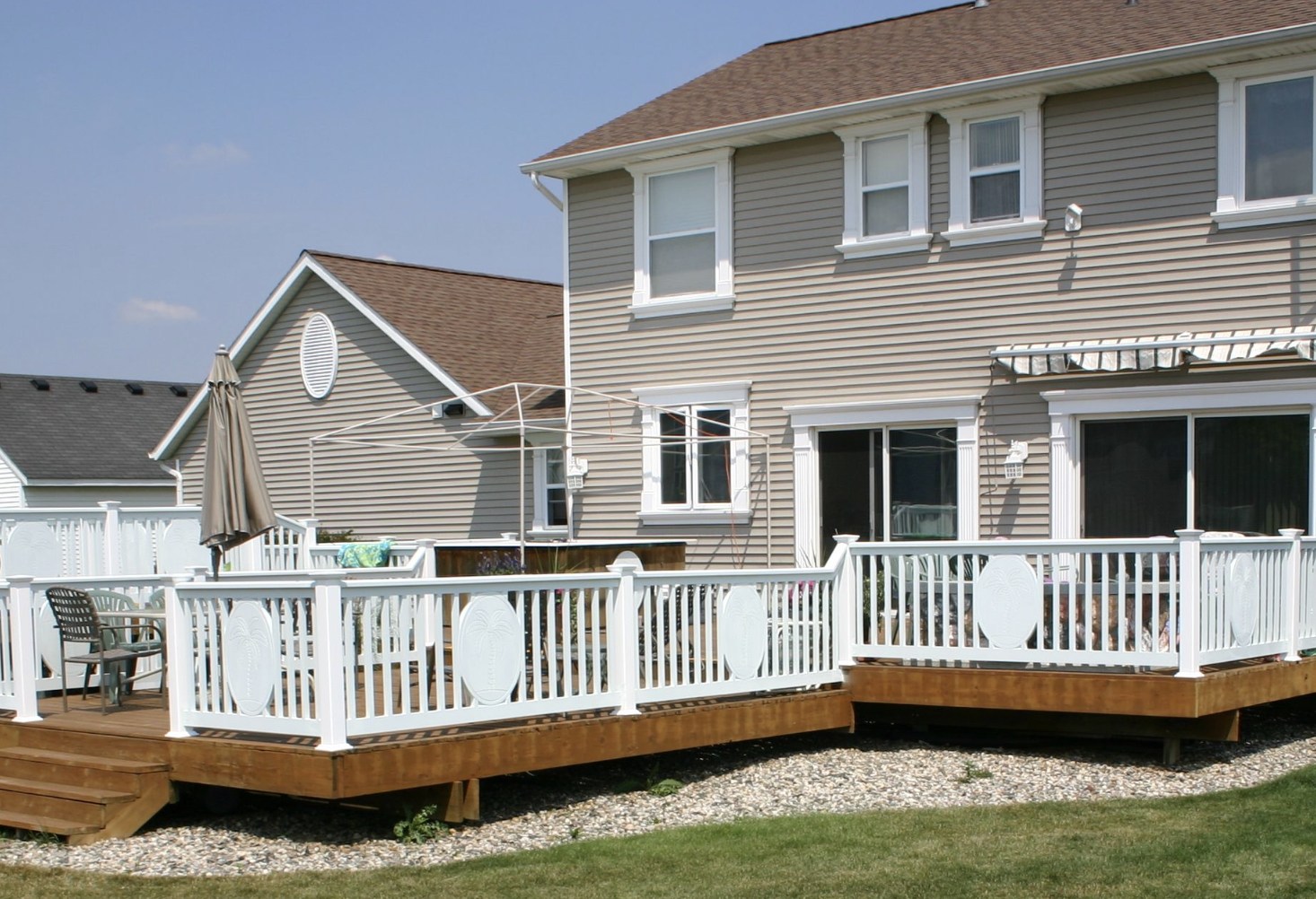 Alt Text: A two-story home with light gray siding and detailed white trim. The garage features an oval-shaped gable vent with framing details.
The homeowners in this example made a great decision when they chose the large, oval-shaped gable vent with the ornate trim. It pairs wonderfully with the gable pediment, and it helps to add something interesting to an otherwise plain exterior wall.
The right side of the home is full of windows and interesting elements, but the wall above the garage lacked a bit of personality before the homeowners added the gable vent. It's a great example of using a gable vent to add visual intrigue and tie the whole look together.
Increase Your Roofs Ventilation and Home Design with High-Quality Gable Accents from PVC Millwork
If you're ready to incorporate one of these gable vent ideas into your home's design — PVC Millwork can help. We are experts at crafting high-quality, long-lasting decorative gable decorations. From our prefabricated designs to our custom fabrications, you're sure to find an option that fits your home's design.
All of our gable products are made of the highest quality PVC, giving you an array of benefits, including:
Insect resistance
Flame retardance
Increased durability
Low maintenance
UV- and moisture-resistant
Affordable visual impact
No required painting or staining
Unlimited customization
If you're ready to start shopping for the perfect louvers for your home, check out our stock collection here. Or, if you can't find what you're looking for or if you want a custom-built decorative gable vent, check out our custom fabrications here.
And if you need some inspiration, take a look at a few of these nifty custom louver vent projects we've built over the years...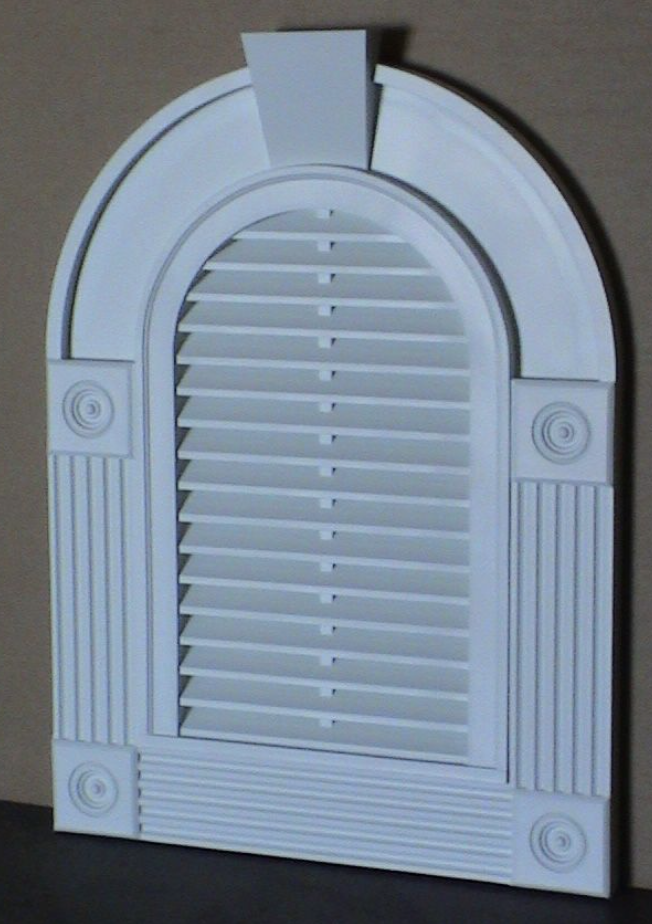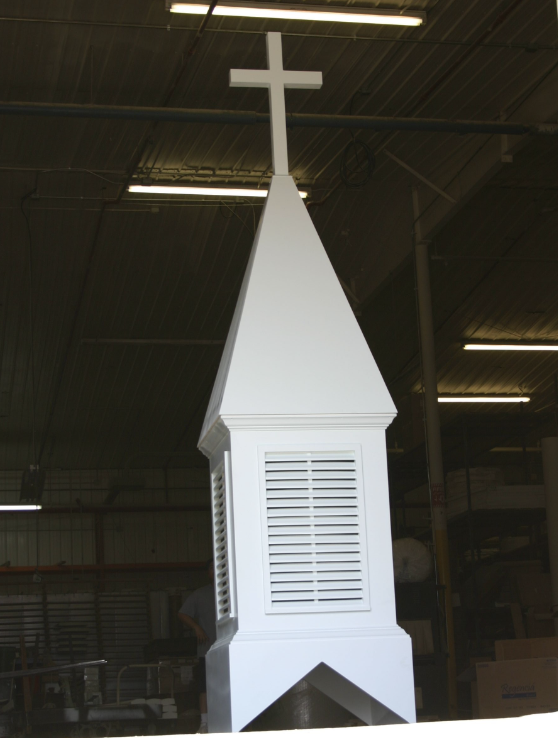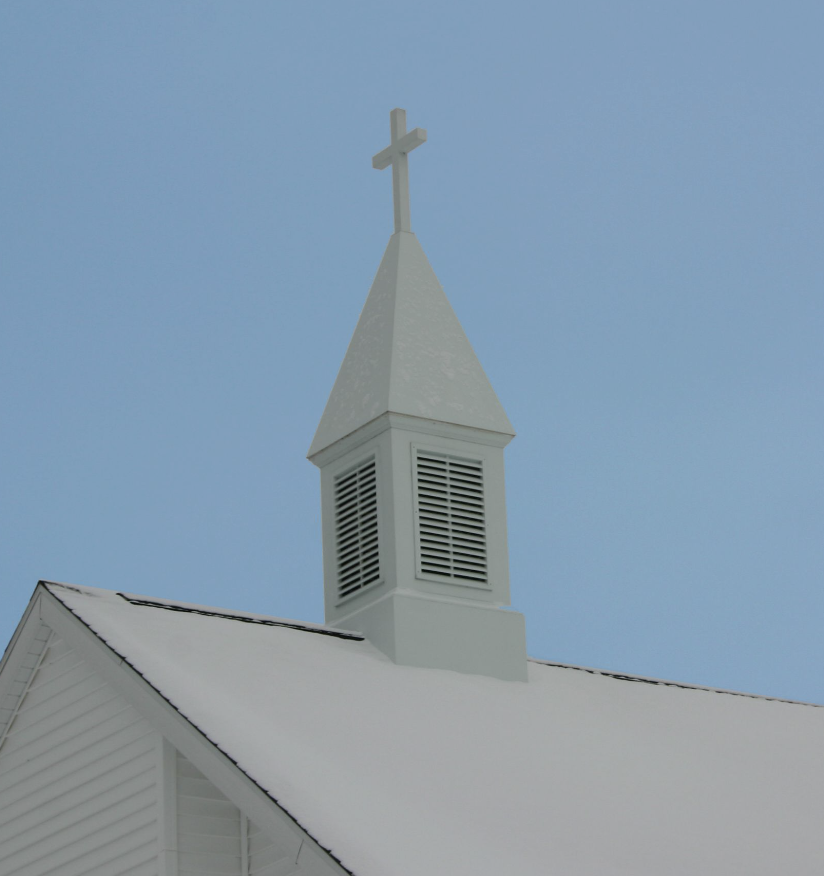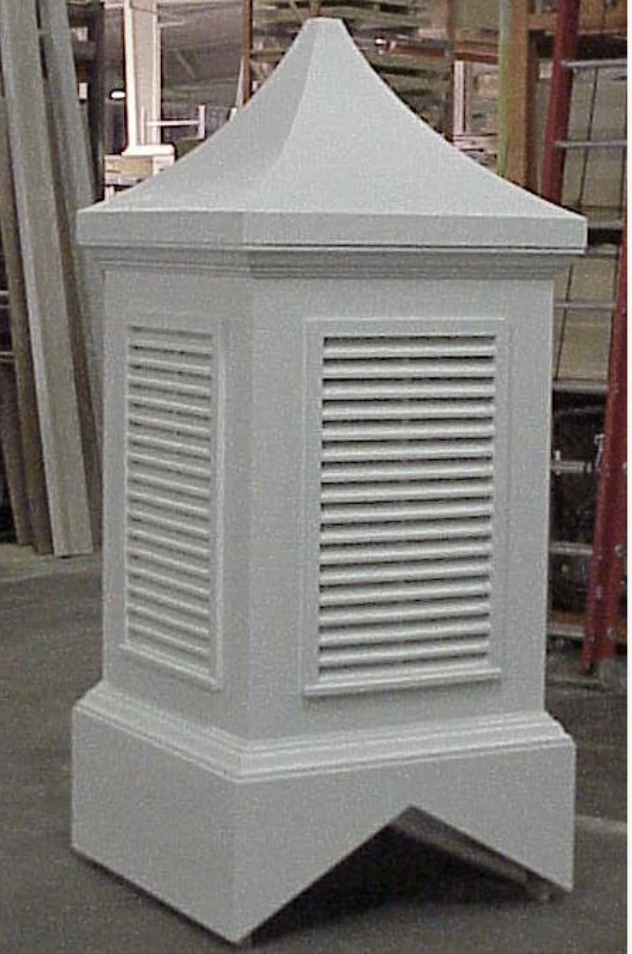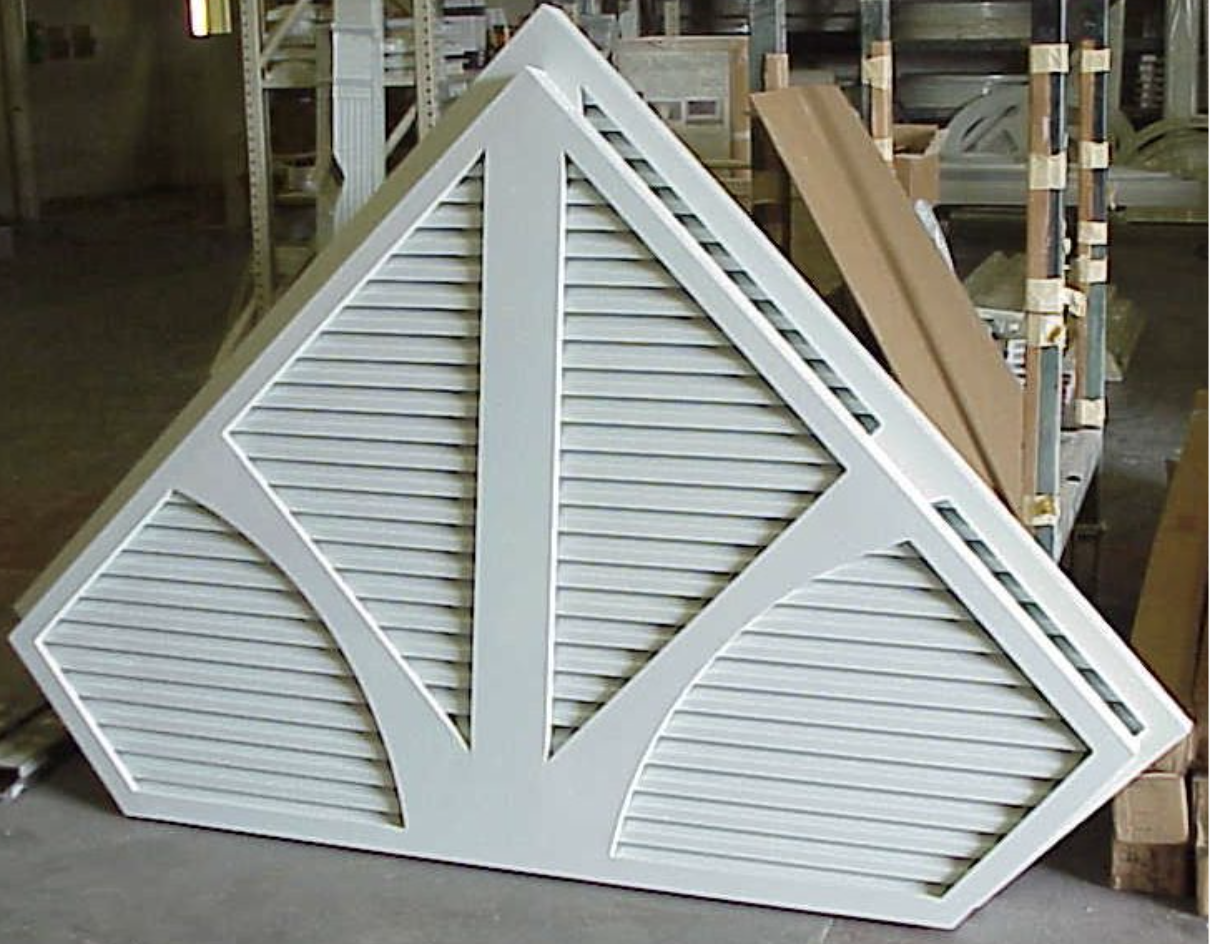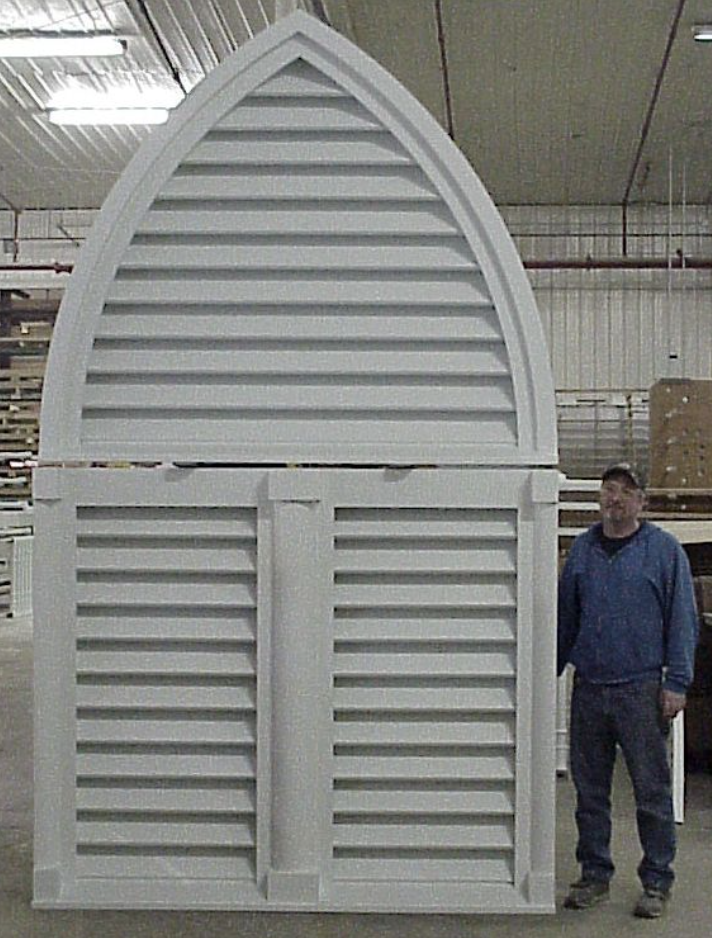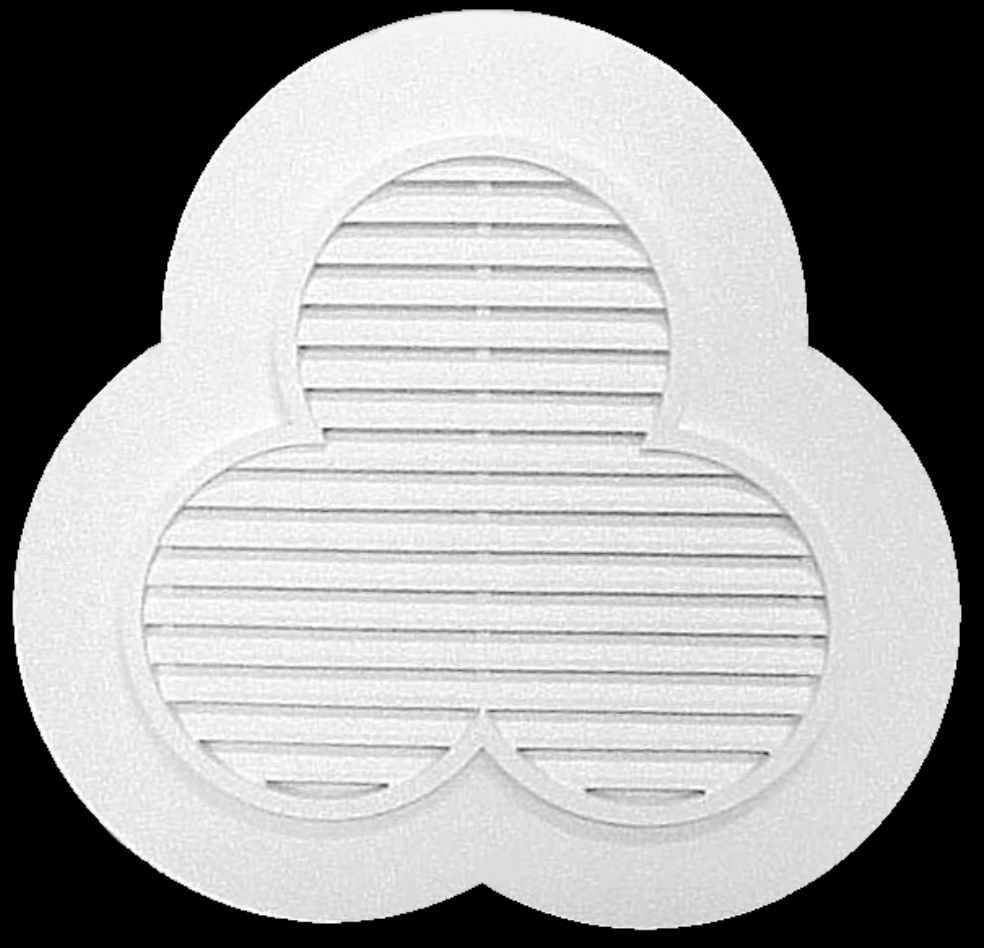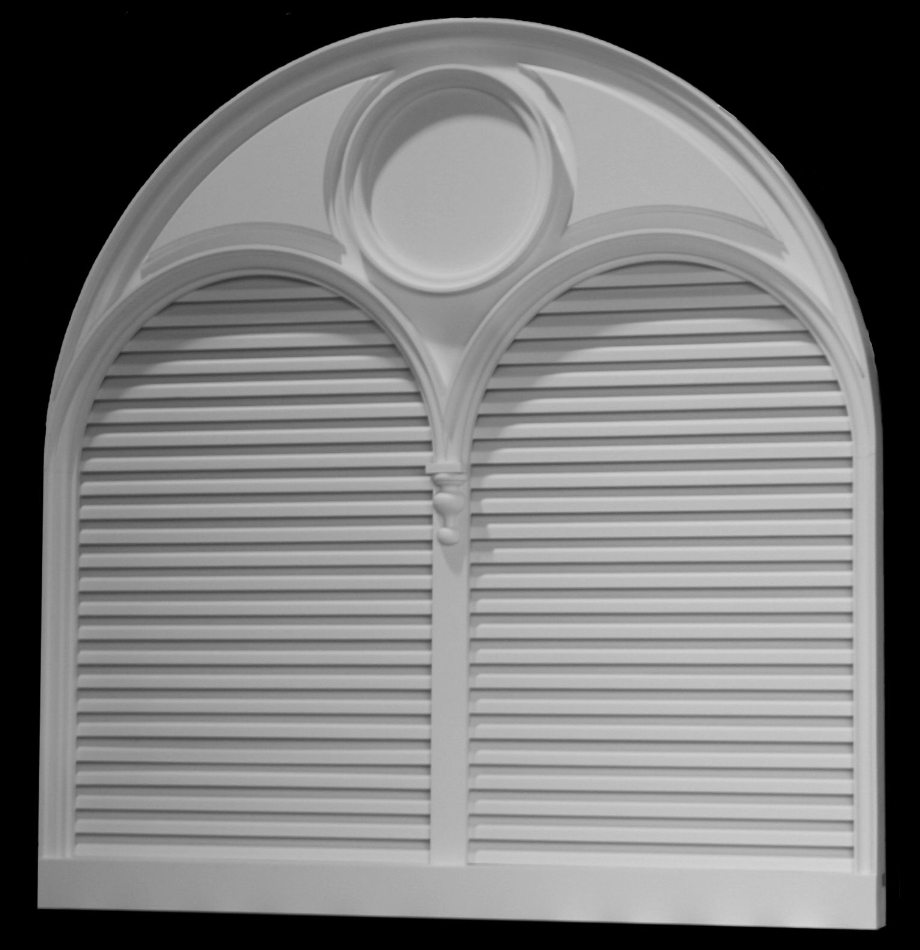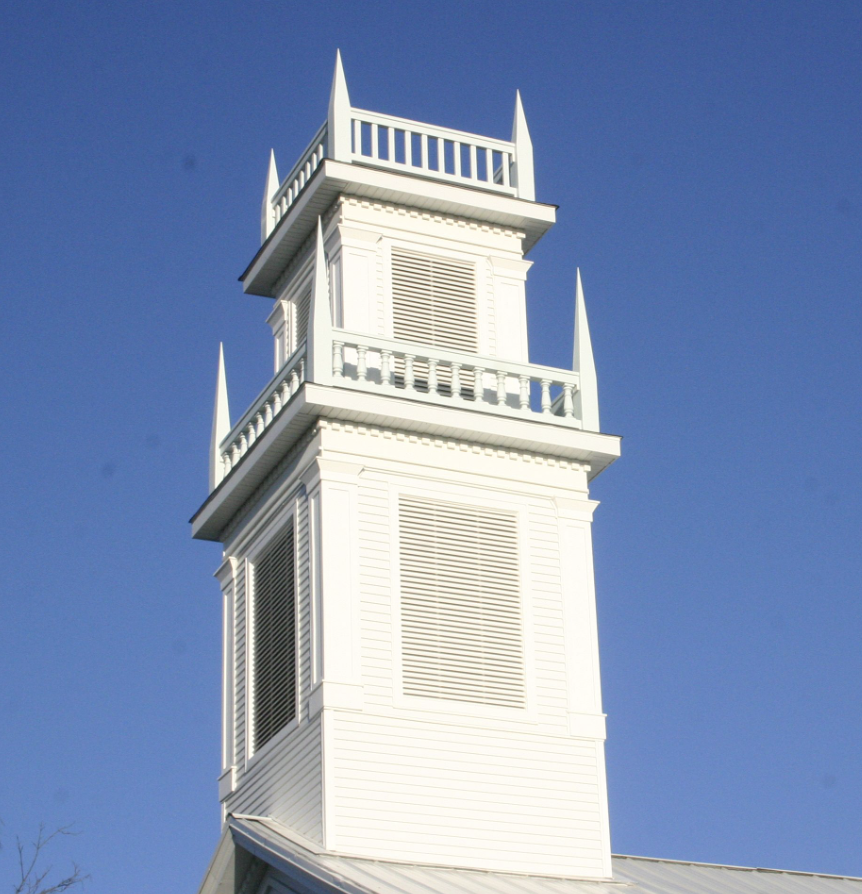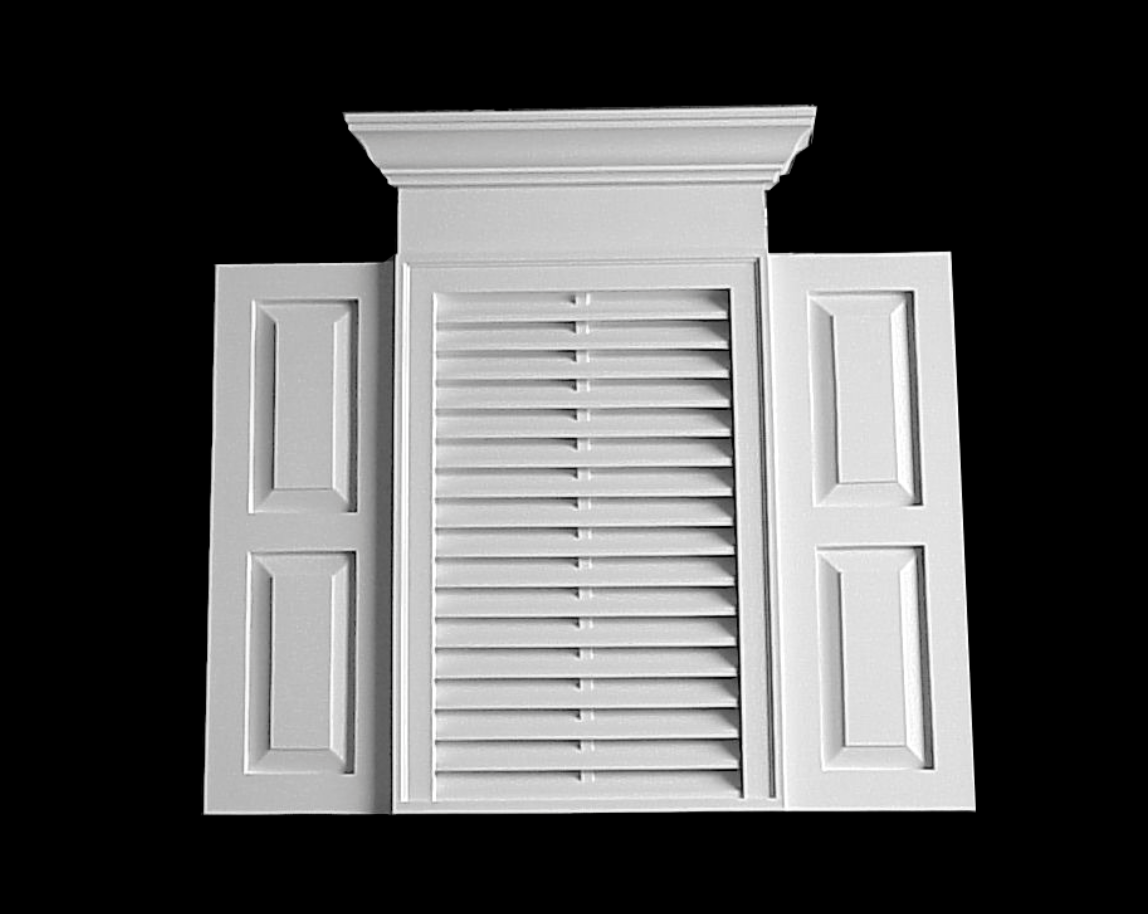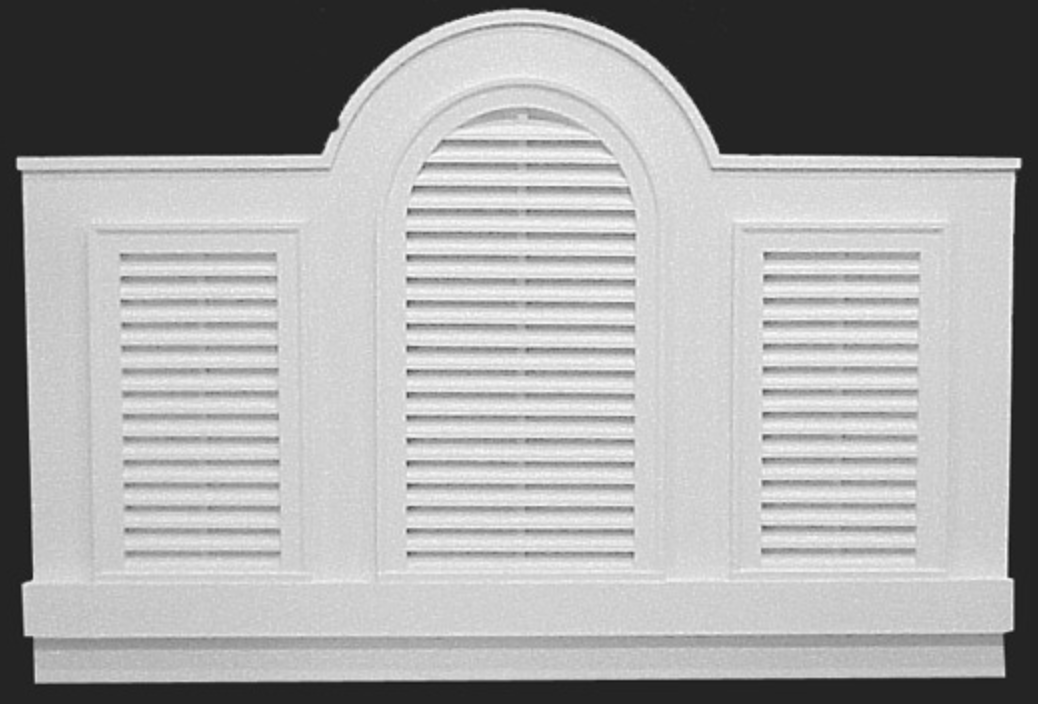 If you have any questions or want more information, contact us today.