Posted by KWB on Mar 23rd 2023
Wholesalemillwork.com offers a wide range of exterior PVC column wraps to cater to various architectural styles and needs.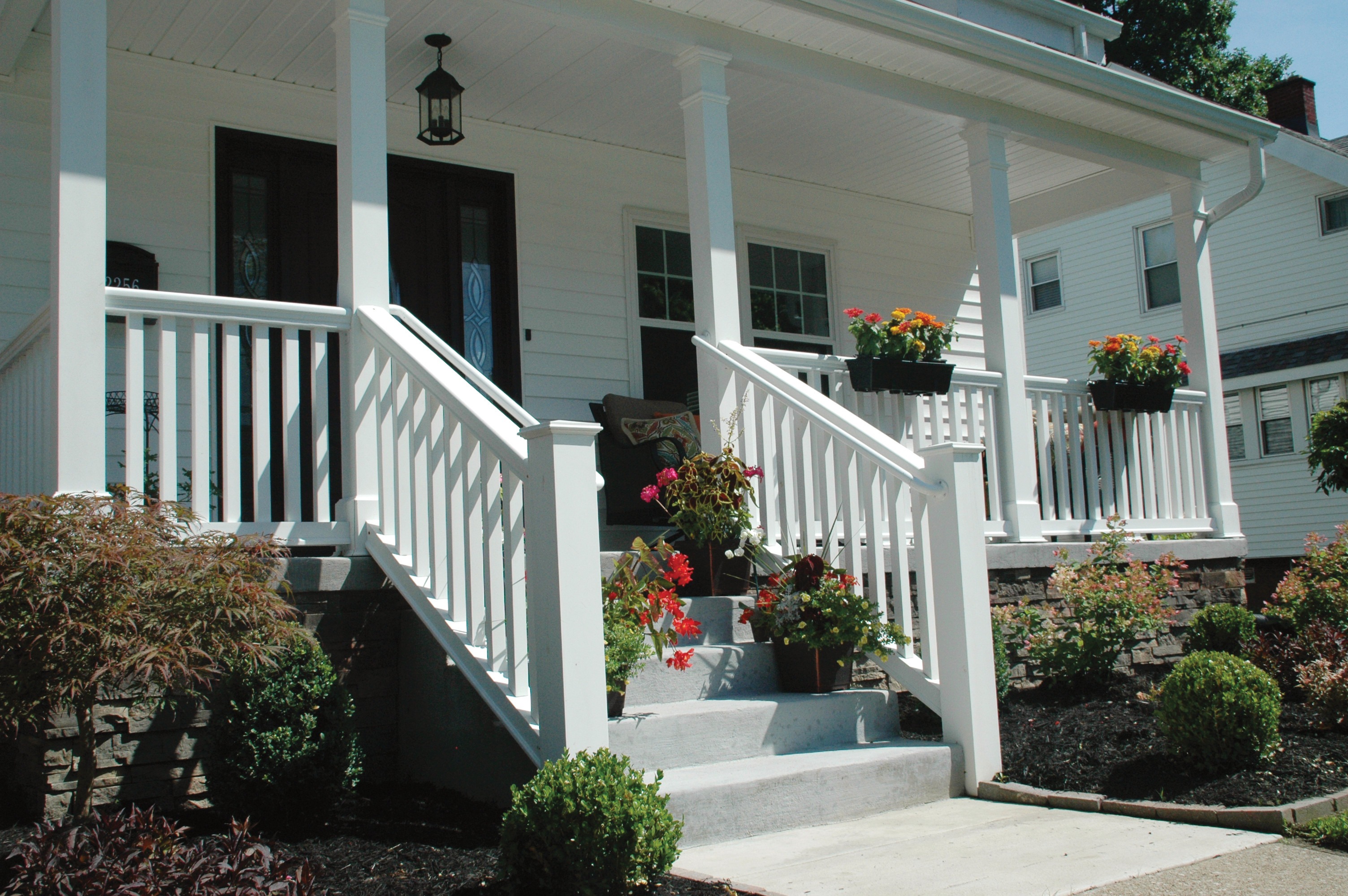 (Front Porch with 5 CW8X108P1BX Plain style wraps)
What Are Column Wraps?
A column wrap is a system that wraps around an existing column or post. Column wraps can help give your wood, metal, or aluminum porch columns a sophisticated long-term upgrade. With easy installation, column wraps are perfect for giving old designs a facelift or for adding an elegant finish to new projects.
Our line of PVC column wraps includes both tapered and non tapered. While plain/smooth is the most popular and affordable style our column wraps also come in raised panel, double raised panel, recessed panel, double recessed panel, fluted and double fluted options.
Benefits of PVC Column Wraps
PVC column wraps are a popular choice for homeowners and builders alike. Here are some of the benefits of using PVC column wraps:
Low maintenance: PVC column wraps require very little maintenance. They don't need to be painted, and they won't rot, warp, or crack over time.
Durability: PVC column wraps are made from a strong, durable material that can withstand harsh weather conditions, including extreme heat and cold.
Easy to install: PVC column wraps are relatively easy to install, especially compared to traditional wood column wraps. They come in a variety of sizes and styles, and can be easily cut to fit your specific needs.
Clean appearance: PVC column wraps have a clean, sleek appearance that can add a modern touch to your home's exterior. They come in a variety of colors and styles, so you can choose the one that best fits your home's aesthetic.
Overall, PVC column wraps are a great choice for anyone looking for a low-maintenance, durable, and easy-to-install option for their home's exterior. They offer a clean, modern look that can enhance your home's curb appeal and increase its overall value.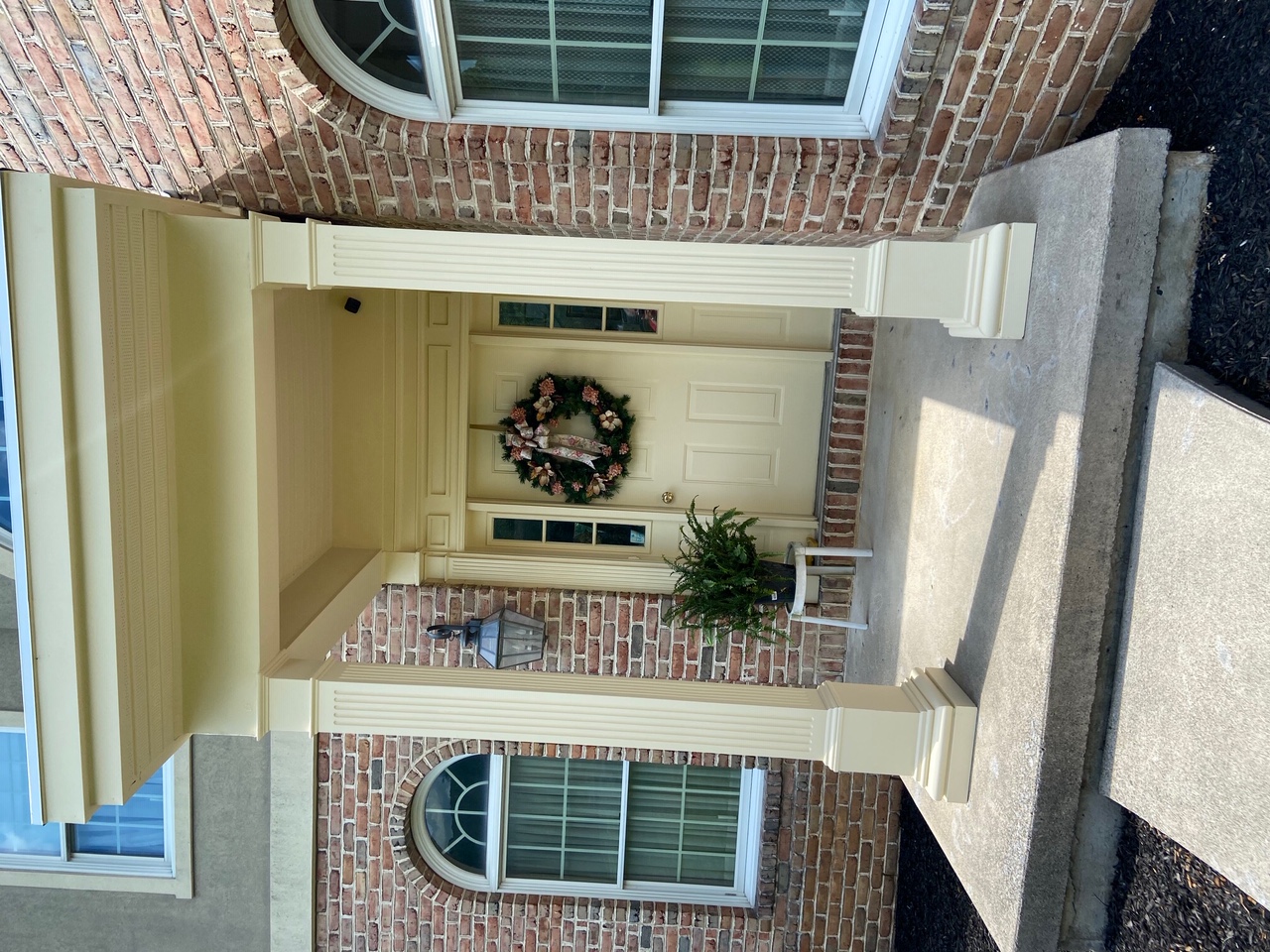 (Custom fluted PVC wraps with pedestal)
"I just wanted to send you guys some pictures from our completed project using the columns you built for us. The pictures truly do not do it justice. They are awesome and we love the enhanced look. Thank you for building a great product for us." - Phill F. Pennsylvania
---
We have standard heights ranging from 60" and the low end and moving up in 12" increments all the way up to 144" at the high end.
If you have a custom height that does work with one of our standard offering we can build them to any 1" increment you might need to make it work for your project.
We strongly believe that our exterior PVC column wraps offer the highest quality at an affordable price. These eco-friendly columns are easily installed over existing wooden or steel posts with standard carpentry tools, and they are also free-standing.
PVC porch patio columns are lightweight, durable, paintable, and resistant to warping, shrinkage, decay, and insects. Moreover, they don't require painting.
Non-tapered PVC Column Wrap style Options below: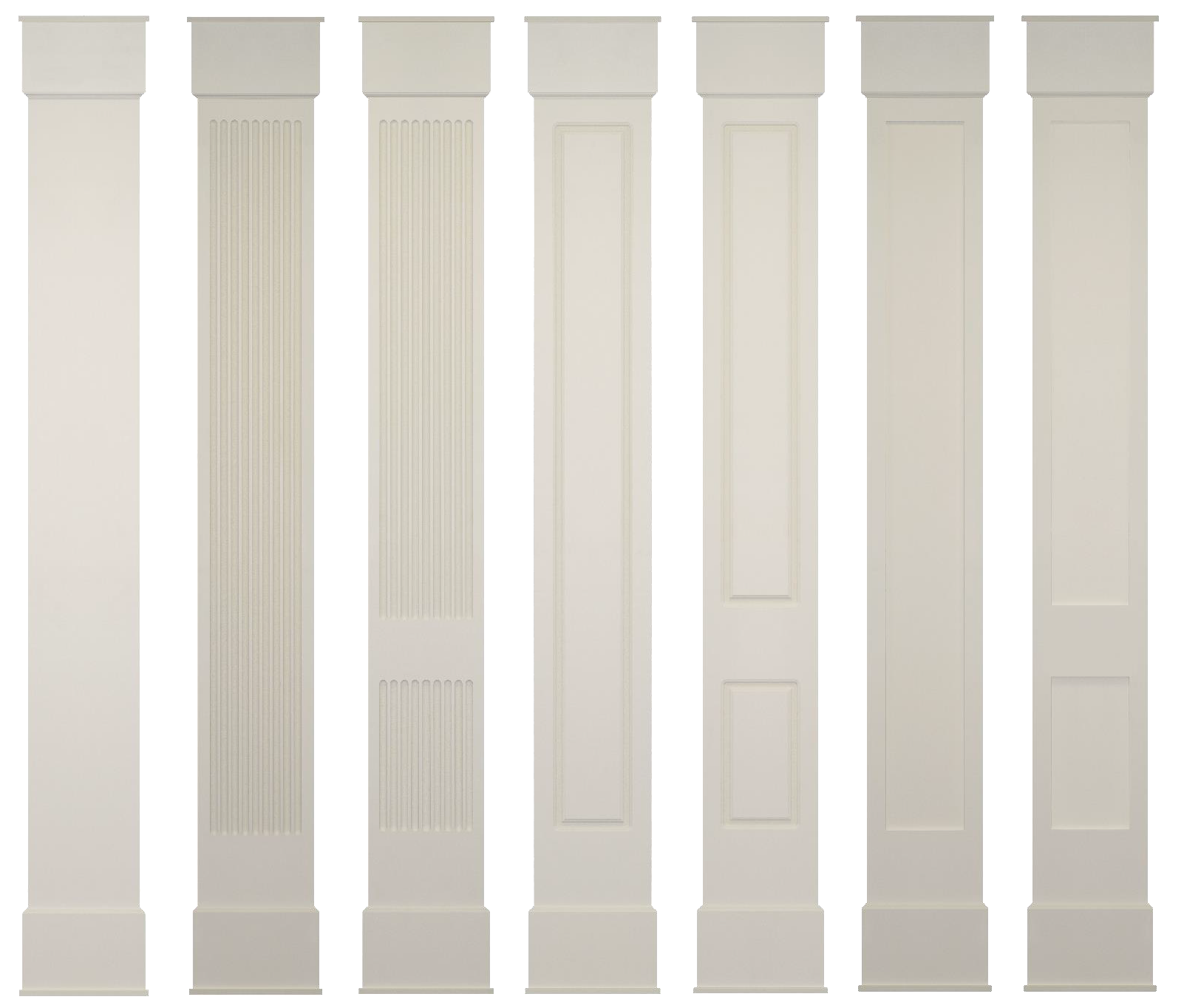 Our PVC wraps are manufactured with premium "Free Rise" cellular PVC sourced from North America.
At Wholesalemillwork.com, we provide all the necessary items to make the installation process a breeze. Our PVC post covers come equipped with specially formulated PVC adhesive, mounting cleats, stainless steel hardware, and Tapcon screws.
Tapered PVC Column Wrap style options below: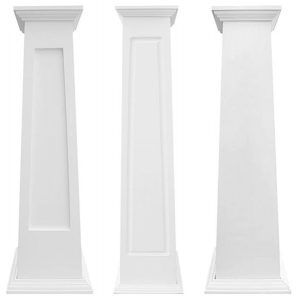 It's worth noting that PVC column wraps are decorative and non-load bearing.
How do you install PVC Column Wraps?
Our PVC column wraps are designed for easy and fast installation around existing porch columns. You can choose to install our PVC porch columns on your own or hire a professional to do it for you. Prices for installation vary based on the project. Make sure you measure and cut the columns properly. Check out our information center for detailed information on how to trim and install our colunm wraps.
Painting PVC Column Wraps: Yes or No?
One of the great benefits of using PVC column wraps is that they do not require painting. Our PVC wraps come in a pure white that will not fade over time.
However, if you prefer a specific color other than white, they can be painted with any high quality acrylic paint. Please note that if the color you've chosen is a dark one, you'll want to make sure and use a solar reflective paint so as to avoid the column wraps soaking up too much heat and potentially warping during periods of intense sun.
Before painting PVC column wraps, it is important to clean them thoroughly to remove any dirt, debris, or oils that may be on the surface. Once the wraps are clean and dry, simply coat them with your acrylic paint, no priming is required.